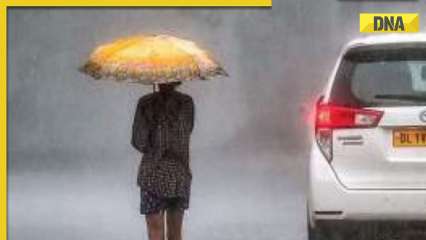 India normal monsoon rainfall despite El Niño conditions, see latest IMD forecast (file photo)
Weather news: India is expected to receive normal rainfall during the southwest monsoon season despite evolving El Nino conditions, the India Meteorological Department (IMD) said on Tuesday. The IMD prediction comes just one day after a private forecast agency, Skymet Weather, predicted "below-normal" monsoon rainfall for the country.
Rainfed agriculture is a critical component of India's agricultural landscape, with 52 percent of the net cultivated area dependent on this method. It accounts for about 40 percent of the country's total food production, making it a crucial contributor to India's food security and economic stability.
What is El Nino? It is the warming of the waters in the Pacific Ocean near South America. It is generally associated with weakening monsoon winds and dry weather in India.
"India will see normal rainfall during the southwest monsoon season (June to September). It is likely to be 96 percent (with a 5 percent margin of error) of the long period average of about 87 cm," M Ravichandran, Secretary, Ministry of Earth Sciences, said at a press conference.
There is a 67 percent chance of normal or above-normal precipitation, said M Mohapatra, Director General for Meteorology, IMD. As of 2019, India has already seen four consecutive years of normal and above-normal rainfall during the monsoon season. Mohapatra said normal or below-normal rainfall is forecast for parts of India's northwest, west-central and north-eastern regions during the southwest monsoon season.
READ | Why has Sachin Pilot opened a new front against Ashok Gehlot? Congress's latest Rajasthan headache explained

"Normal rain is likely in many parts of the peninsular region, along with east-central, eastern, north-eastern and some parts of north-western India," it said. The head of the Met department said El Nino conditions are likely to develop during the monsoon season and their impact will be felt in the second half.
However, Mohapatra added that not all El Niño years are bad monsoon years and that 40 percent of El Niño years in the past (1951-2022) received normal or above-normal monsoon rainfall.
According to the IMD, rainfall between 96% and 104% of a 50-year average of 87cm is considered "normal". Studies indicate a stronger inverse relationship between El Niño and rainfall during the second half of the monsoon season.
The chief meteorologist said that positive Indian Ocean Dipole (IOD) conditions are expected during the southwest monsoon season and snow cover over the northern hemisphere and Eurasia was also below normal from December 2022 to March 2022. 2023.
The IOD is defined by the difference in sea surface temperatures between the western parts of the Indian Ocean near Africa and the eastern parts of the ocean near Indonesia. A positive IOD is considered good for the Indian monsoon.
The lower snow cover over the Northern Hemisphere is also considered favorable for the subsequent southwest monsoon showers over India. "If there is any adverse impact due to evolving El Niño conditions during the monsoon season, it is likely to be offset by the favorable impact of the positive IOD and reduced snow cover in the northern hemisphere," it said.
India received 971.8mm of rain in the monsoon season in 2019; 961.4mm in 2020; 874.5 mm in 2021 and 924.8 mm in 2022, according to IMD data. The country recorded 804.1 mm of precipitation in the season in 2018; 845.9mm in 2017; 864.4 mm in 2016 and 765.8 mm in 2015.
Unseasonable rains and hailstorms in March damaged rabi crops in much of the country, causing losses for thousands of farmers. However, the government said wheat production had not been affected due to unseasonal rains.
An early onslaught of heat waves hit India's wheat output last year, prompting the country, the world's second-biggest wheat producer, to ban wheat exports in May. In March this year, the government said the wheat export ban will continue as long as the country is not comfortable with domestic supplies to meet food security needs.