On Sunday, fire crews continued to battle a fire that broke out the previous day on the ship Kodiak Enterprise docked at the Tideflats port facility in Tacoma, Washington.
The Tacoma Fire Department, the Coast Guard, the Environmental Protection Agency, the Washington Department of Ecology and other agencies were responding to the fire.
The Department of Ecology first tweeted about the fire shortly before 1 p.m. Saturday. The department said there was no spill, but first responders placed barriers around the vessel as a precaution.
By Sunday afternoon, the fire had progressed throughout the ship and was approximately 100 feet from the ship's freon tanks.
SOUTH NORFOLK TRAIN CARS DERAIL, SPILLING DIESEL AND OIL; 2 TAKEN TO THE HOSPITAL
The Kodiak Enterprise is reported to have about 55,000 gallons of diesel and 19,000 pounds of freon on board. The heat from the fire can cause pressure to build up in freon tanks.
Freon can be toxic if inhaled in large amounts or in enclosed spaces, but authorities say the release of the chemical into the atmosphere is not expected to pose any risk to public safety.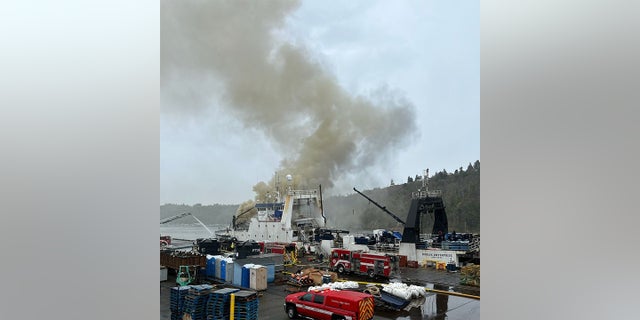 The Tacoma Fire Department has issued a temporary shelter-in-place order for the NE Tacoma neighborhoods of Browns Point and Dash Point. Residents were urged to stay indoors and limit smoke exposure.
The Coast Guard closed the Hylebos Channel to all commercial and recreational boat traffic. A coast guard was deployed to enforce the lockdown.
"The safety of the public and lifeguards is our top priority," Coast Guard Capt. Youngmee Moon said in a statement. "The unified command is working closely together to leverage the capabilities of each agency to respond to this incident in the most effective manner possible and maintain the safety of the public."
CLICK HERE TO GET THE FOX NEWS APP
The cause of the fire remains under investigation. No further details have been provided.