I was always one of those kids who loved going to school.
Choosing new school supplies each year was always very exciting and having a organized locker it was a must! I loved having organized folders for each class and a yearly calendar to keep track of upcoming tests and assignments.
Every year I got a new planner, but I could never find one that had everything you really needed to stay organized at school. Most stores only sell basic planners, nothing made specifically for a student. That's why I'm so proud to get you your own. printable student planner and best of all it's FREE!!!!

I am very excited to provide you with this free printable student planner, perfect for older kids or college students! It's packed with everything students need to stay organized and on track this school year.

The student planner includes:
Two different decks to suit your style
Undated full year calendar that you can reuse each year
Goal Setting Planner
weekly planner
Class schedule
School Activities Calendar
Schedule tasks
assignment schedule
practice schedule
Study Schedule
The Chronogram of the project
project planner
Test/exam schedule
grade tracker
read register
Teacher Contact Information
password registration
to do list
notes page
What you will need:
3 ring binder
3 ring punch
divider tabs
There are so many things to keep track of during the school year. That's why this student planner It is made to help you with organization and keep up with any and all school subjects. Gun your student planner with these free binder printables and tab dividers to organize it by school subjects and categories.

start your student planner with calendar and weekly planning sheets. Most classes provide a syllabus at the beginning of the year that provides all test dates and assignments. With the calendar, you can easily see at a glance when all your exams and projects are due throughout the year. You can also keep track of your class schedule, study schedule, school and practice activities, and more!

Then, by dividing your planner by classes or school subjects, you can keep track of assignments, tests, test scores, project due dates, and plan for them. This planner has everything you need to shine this school year and stay organized!
MY FAVORITE PAGES
It's a bit difficult to choose favorite pages because they are all useful, but I have a few.
A calendar is a must! These Undated 2 Page Extended Calendars They're great for seeing the month at a glance. There's plenty of room to fill out all those activities and reminders for the busy student!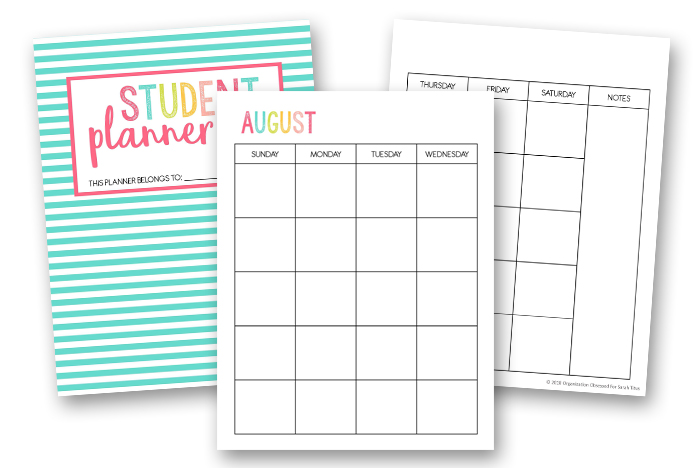 He weekly planner The template is very useful for keeping the school week organized. A clear mind allows you to focus on what's important…your studies! Win-win here!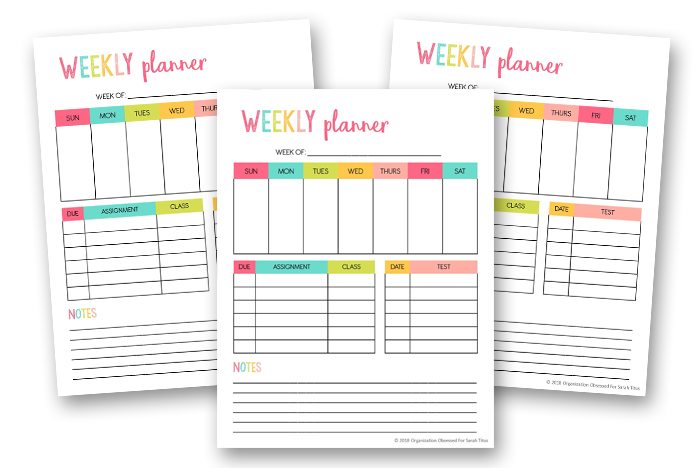 He to do list and grades The sheets in this printable planner can be used in a variety of ways. to do list The printables can be used to remind you of what needs to be done for each subject or just use them for your school projects. Check off each task once they are completed.
He grades printable can be used to write your lecture notes, in turn, you can refer to them while studying for exams. Writing things down helps reduce some of the constant mental clutter so that the grades printable is a perfect way to do that too.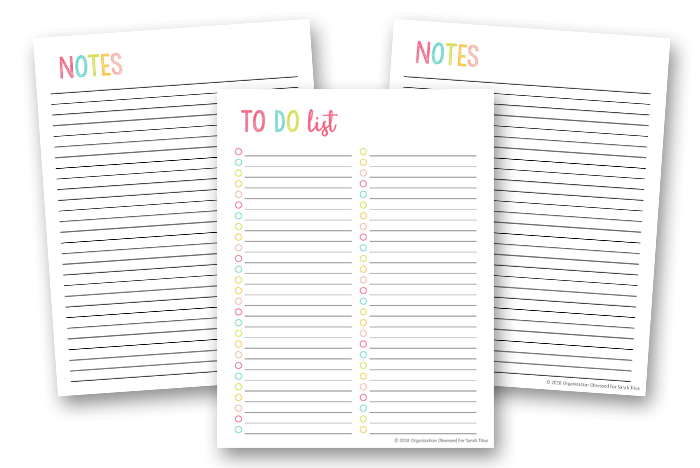 He Schedule tasks printable allows you to keep track of when your assignment is due, what class it is for, and what assignment.
You won't have to use the excuse that the dog ate my homework. 🙂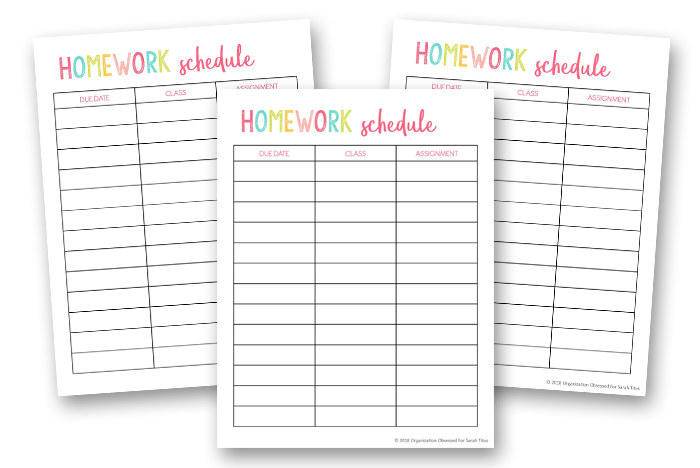 He grade tracker printable will help you keep all your grades in one place. It will let you know what you may need to do a little more work to improve your grades. Space is provided for class, date, homework, and grade.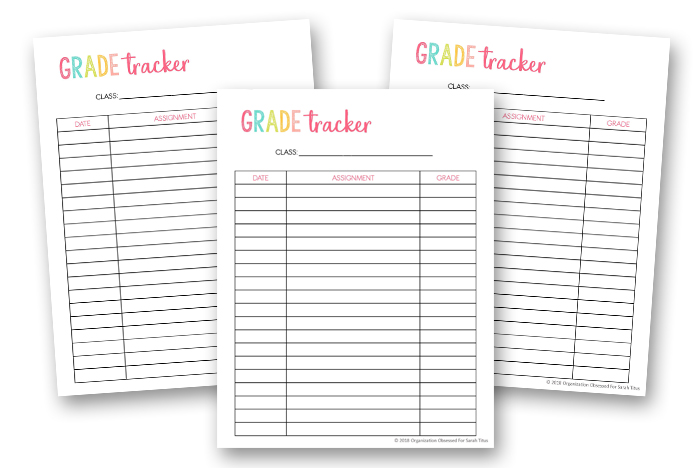 For those students who participate in school activities, this School activities printable is perfect! Whether it's a sport or student council, this printable will keep all the activities on one page.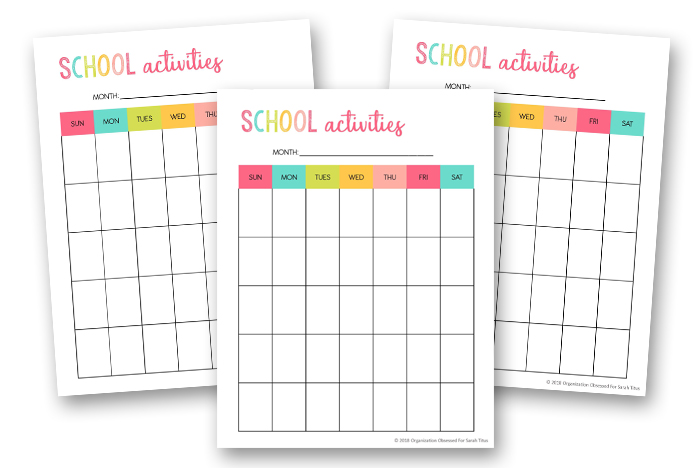 Do you have a question for a teacher? He Teacher contact information. printable provides sections for name, phone number, email, and room number. An easy way to use when trying to contact your teacher.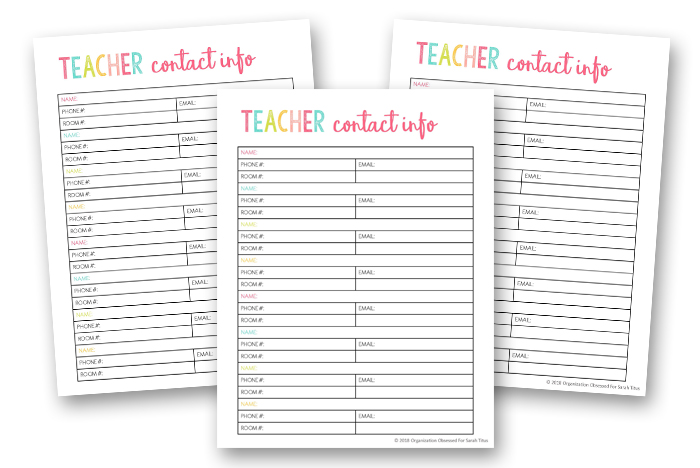 See what others are saying about the planner…