Lately I have come across many different online tutoring jobs! Today, I have a BookNook review for you – a company that is actively looking for work-at-home tutors right now.
In this blog post, we'll talk about what it means to be a BookNook Tutor and what you can expect to gain.
What is Book Nook?
BookNook is an online tutoring platform that provides virtual reading instruction to children in grades K-8. The program is designed to help students improve their reading skills and build a strong foundation in literacy.
What do you do as a BookNook tutor?
As a BookNook Tutor, you will work in groups of 1-4 students to provide instruction that meets their needs.
You will use the platform's online tools to track progress, provide feedback, and communicate with parents and teachers.
Can you work from anywhere with BookNook?
One of the benefits of working with BookNook is that you can work from anywhere in the US with an Internet connection.
This makes BookNook a great choice for people who are already educators and want the flexibility to work from home or on the go.
Unfortunately, BookNook appears to be open to US residents only at this time.
How much does BookNook pay?
According to their website, tutors can earn $18 per hour with potential for bonuses.
As you gain more experience and receive positive feedback from students and parents, you may be eligible for higher salaries.
BookNook pays their tutors twice a month via direct deposit.
Who qualifies to work at BookNook?
Below is what BookNook has listed on their website for the qualifications required to work as a tutor:
More than 1 year of teaching or tutoring and a bachelor's degree (or higher)
More than 1 year of teaching or tutoring and current enrollment in a teaching credential program
More than 3 years of teaching or tutoring.
You'll also need a reliable internet connection and a computer or tablet with a camera and microphone. You must also pass a background check.
BookNook provides all the training and materials you need to get started, so you don't need to be a techie to get involved.
How is the schedule with BookNook?
BookNook gives you the flexibility to fit your schedule. Most tutors work between a few hours per week and 10 hours per week. The company claims their goal is to make it so everyone can get up to 20 hours a week if they want or need it.
There is no minimum number of hours required.
In conclusion
BookNook works in a similar way to many other online tutoring companies that are in business now.
Since they do not require a minimum number of weekly hours, you could probably combine this with other online tutoring opportunities to increase your tutoring income!
How to apply
If you are interested in becoming a BookNook tutor, please visit their website for more information and to apply.
300 more flexible jobs at home without a phone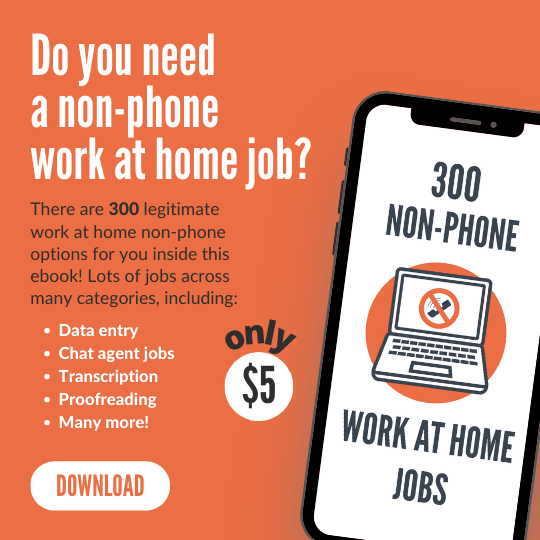 Want to work at home but can't do it using a phone? If so, I have great non-phone options for you at my latest ebook. It's only $5!
In this book, you will find links to 300 companies offering different types of work at home without a phone, including:
Data entry
chat agent operators
freelance writing
Transcription
Proofreading
Bookkeeping
search evaluation
Much more!
Each job posting also has a short summary with any relevant information you can find (pay, which countries you may be open to, etc.).
Good luck to you, and I hope you find this eBook useful if it's a non-phone job you're looking for.
After payment, you will receive the email containing your download.